Major exhibition to focus on enigmatic Scots artist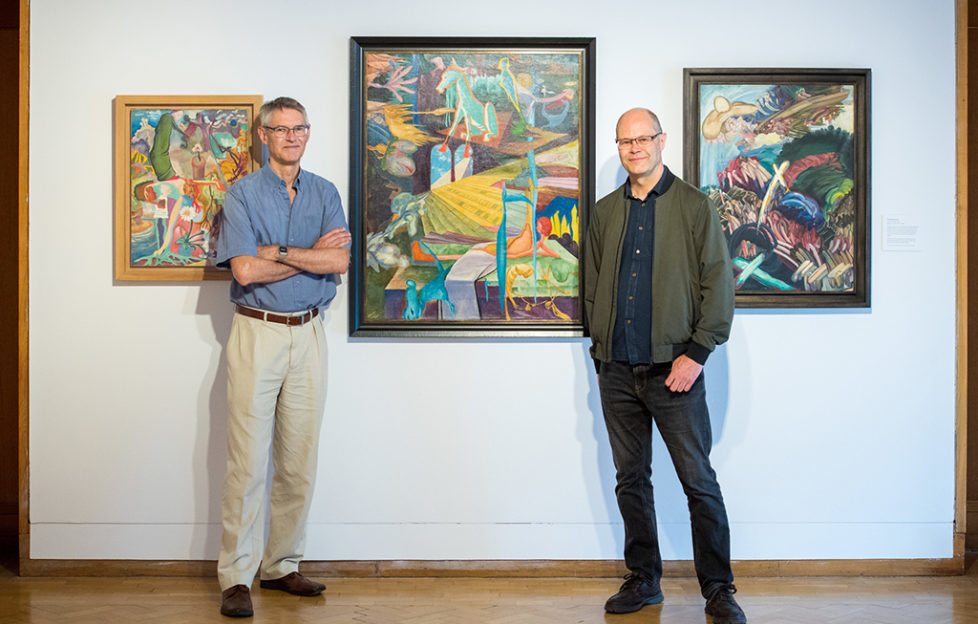 A new exhibition exploring the life and work of Scottish Modernist artist Edwin G Lucas is now underway.
Revealing the little-known story of Lucas's life and career, it traces his development from the early watercolours of his youth to his boldly experimental oil paintings of the 1940s and 1950s. It also explores the artist's final, uncompromising works of the 1980s, which were produced after a break of almost 30 years, prior to his death in 1990.
The exhibition will feature over 60 artworks drawn from public and private collections, including loans from the Scottish National Gallery of Modern Art and rare archival material from the artist's estate.
Born in 1911 and educated in Edinburgh, Lucas was largely self-taught as an artist, his family having discouraged him from pursuing a risky career path. Despite this, Lucas went on to become a serious and prolific painter, whose work was exhibited by the Royal Scottish Academy and the Society of Scottish Artists.
Dr Helen Scott, curator of Fine Art, at Edinburgh's City Art Centre, said: 'This is a really exciting opportunity to bring Lucas's paintings to public attention. For so many years his work has been overlooked and ignored in the wider narrative of 20th century Scottish art, but Lucas was, in fact, one of the most original painters of his era – a unique talent that deserves to be recognised.
'Although he was self-taught, he was well-aware of avant-garde developments taking place at home and abroad. His friendships with contemporary artists such as Wilhelmina Barns-Graham gave him direct insights into modernist approaches, and these connections seemed to spur him on to experiment in his work.
'His encounter with Surrealism in the late 1930s was undoubtedly a turning-point in his career, but it is interesting to note that he always pursued his own creative path. Having absorbed a variety modernist influences, he deliberately distanced himself from conventional groupings and popular trends, choosing to paint against fashion. He was determined to find his own expression of artistic truth. His independent spirit shines through in his work, and I think there's something irresistible about that.'
Running until 10 February next year, the exhibition is accompanied by the illustrated catalogue Edwin G. Lucas: An Individual Eye, written by Helen E Scott and published by Sansom & Co.
Edwin's son Alan Lucas said: 'My father effectively stopped painting to focus on having a family, something my brother and I are eternally grateful for! However, it's a shame the paintings that decorated our family home didn't gain wider recognition during his lifetime. We are delighted that this exhibition will, for the first time, show a wide audience the full range of the innovative work he produced during his artistic career.'
Councillor Donald Wilson, Culture and Communities convener at City of Edinburgh Council, said: 'An ordinary man with an extraordinary talent, Edwin G Lucas is surely one of Edinburgh and Scotland's most underrated artists.
'By day Lucas worked in the civil service, but at night he would turn his hand to painting incredible surrealist scenes. Born in Leith, he spent most of his life in Edinburgh having grown up in Juniper Green and settled in Stockbridge, and had to put his painting on hold for many years to raise his young sons – a balancing act between work, family and creative interests many of us can identify with.
'Now, 70 years on, his imaginative artworks are being recognised as much more than that of a hobbyist. In fact, his colourful and unique paintings are starting to be considered as unprecedented for his time and this exhibition will bring 60 of Lucas' artworks together for a dedicated display.
'I'd like to thank the artist's family for their support for the exhibition as well as its curator, Helen Scott, who has used her expertise at the City Art Centre to compile a fascinating catalogue about the life and work of Edwin G Lucas to accompany this must-see exhibition.'
Edwin G. Lucas: An Individual Eye is part of Edinburgh Art Festival 2018. It is on display at the City Art Centre, 2 Market Street, Edinburgh EH1 1DE.