The military story behind some of Scotland's roads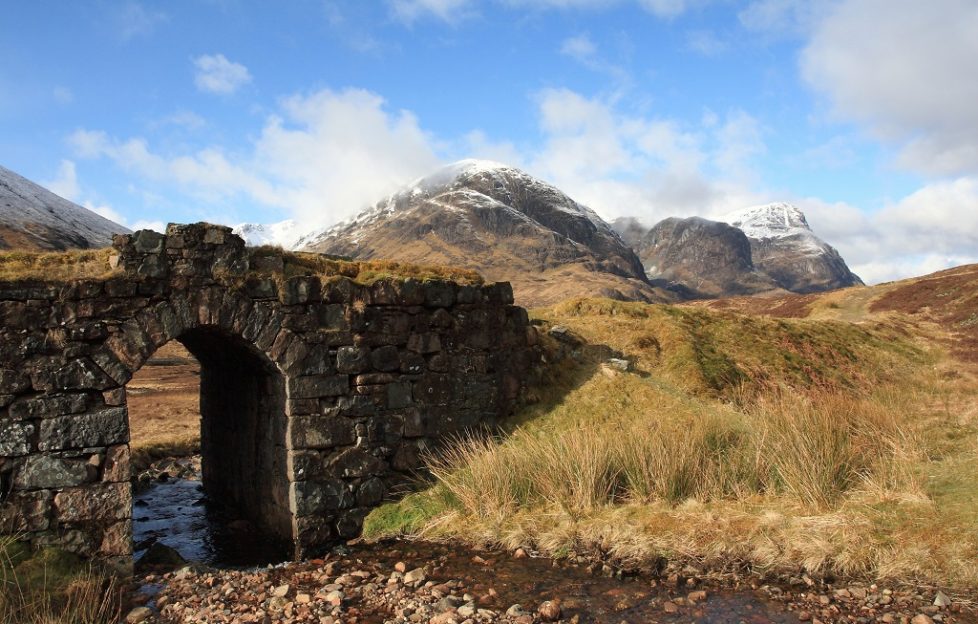 The Roman legions were not only formidable infantry, they were highly competent civil engineers, especially when it came to road building.
After their departure from Caledonia in the second century of the Christian era the country had few, if any, all-weather roads for some 1,600 years. That is, until the arrival of a certain Irish-born Hanoverian general.
The Jacobite rising of 1715 – the 'Fifteen' – and the continuing restiveness of many Highland clans activated the government of King George I to copy the ancient Roman policy of building permanent roads over which troops might swiftly manoeuvre to counter any further insurrection. Enter George Wade (1673-1748).
The general came from an Anglo-Irish military family and was the third son of Jerome Wade of Kilavally, Co. Westmeath, his grandfather William Wade having been a Major in Oliver Cromwell's New Model Army.
George Wade learned his trade as a young infantry officer in Flanders as King William III confronted the French armies of Louis XIV. By 1695, he was a Captain in Sir Bevil Granville's Regiment of which he would become the Commanding Officer in 1703. Service in Spain and Portugal followed, where Wade's combat leadership led to his promotion to Brigadier and then to Major-General.
Back in Britain, he entered the House of Commons in 1715 as the Whig MP for Hindon in Wiltshire.
When the Jacobite rebellion broke out later that year, Wade was ordered back into action and took two regiments of heavy Dragoon cavalry to police the potential Jacobite stronghold of Somerset. His formidable military reputation, plus his Dragoons, kept the West Country quiet as the 'Fifteen' petered out after the inconclusive Battle of Sheriffmuir in Stirlingshire.
The government was fearful, correctly as 1745 proved, that a further and larger Jacobite rebellion might break out. Consideration was thus given to what measures might be adopted to prevent, or if necessary to combat, such an eventuality.
Among these were the positioning of loyalist troops in Highland strongpoints together with a road network to allow their rapid deployment in any emergency.
In 1722 Wade was elected MP for Bath and would represent the city until his death. Two years later he was ordered north to reconnoitre the Scottish Highlands and observe their resources in military manpower and weaponry.
Worryingly for national security, he found that efforts to disarm the Highlands after the 'Fifteen' had proved ineffective and that the pro-Jacobite clans were now better equipped for rebellion than ever before. His report, submitted to the King in 1725, recommended the military recruitment of loyal Highlanders for local defence, the building of new barracks and the repair of existing fortresses.
Appointed Commander-in-Chief of 'North Britain' (ie: Scotland), he first had to divert his troops to Glasgow where the new Malt Tax had predictably increased the price of whisky and, equally predictably, triggered major rioting.
Ever the military strategist, Wade, though an infantryman at heart rather than an engineer, commenced the road-building works for which he is best remembered. He superintended the construction of an all-weather road stretching 60 miles across the central Highlands and linking three great Forts.
The road ran from Fort William at the head of Loch Linnhe to Fort Augustus at the southern end of Loch Ness and on to the original Fort George which was in the town of Inverness. After its destruction in 1745, the present
Fort George was built on Ardersier Point on the Moray Firth.
This was followed by a decade of roadworks undertaken by the General's famous 'Highwaymen'. These were infantry soldiers offered double pay – and rations – to labour on the construction of more than 240 miles of road together with some 30 bridges. One of the latter, still in use today, is Wade's famous five-arch crossing of the Tay at Aberfeldy.
This road-making programme was a remarkable feat, though as it progressed the General must have wryly noted that he was also constructing the means whereby an insurgent Jacobite army could rapidly penetrate into the Lowlands of Scotland – and beyond. In 1745 this would indeed prove to be the case.
During his sojourn in Scotland, Wade was promoted to Lieutenant-general in 1727, and became governor of the three central anti-Jacobite bastions of Forts William, Augustus and George. In 1739 Wade was sworn of the Privy Council and four years later received the baton of a Field Marshal.
On the outbreak of the 1745 Jacobite rising Wade, now 72 and in declining health, headed the Military Committee convened by the King to meet the crisis. He marched to Newcastle with 13 battalions of infantry, but was side-stepped by Prince Charles Edward Stuart, who took the westerly route southward via Carlisle.
Although a fine Brigadier in his youth, Wade proved no match as a field commander for Lord George Murray, who was the Prince's master tactician. It being quickly realised that the situation required a younger man, the King's son Frederick, Duke of Cumberland, was urgently recalled with his troops from the Continent and took command.
Wade took no further part in the campaign which Cumberland would bring to its bloody conclusion at Drumossie Moor near Inverness and on the estate of Culloden, which would give its name to that graveyard of Jacobite hopes.
Wade now retired from the Army, but in 1746 was recalled as President of the court-martial which, remarkably, cleared Sir John Cope of gross incompetence over his disastrous encounter with the Highland army at Prestonpans.
The Field Marshal died in March 1748 at his house in Bath, aged 75. He was buried in the central nave of Westminster Abbey, where there is a marble plaque and portrait bust by Louis Roubiliac.
His true memorial, however, are his bridges and highways, the best since those constructed by another general, one Julius Agricola, more than a millennium earlier.
Today, when you see the term 'Old Military Road' on any Ordnance Survey map of Scotland, you are literally looking at his personal track.
Remember also the couplet of Major William Caulfeild, a successor to the general as inspector of military highways: 'Had you seen these roads before they were made, You would lift up your hands and bless General Wade!'
This feature was originally published in 2016.