Read all about it as Wigtown marks 20 years as book town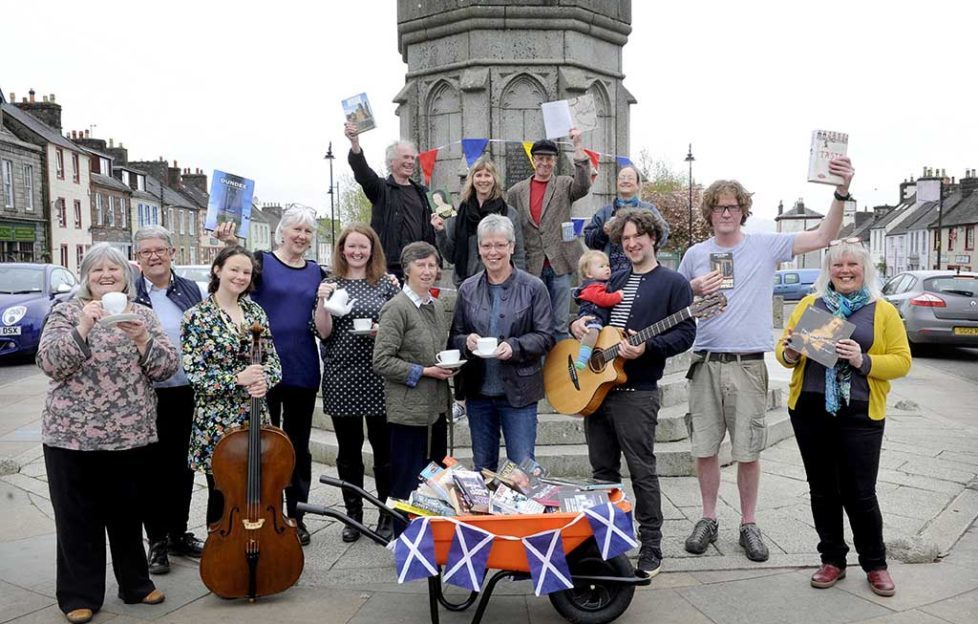 Scotland's national book town is celebrating its 20th anniversary this week.
In 1998, Wigtown in Dumfries and Galloway was declared Scotland's National Book Town – a move that transformed its fortunes after years of decline.
The closure of a large creamery and a distillery had seen the fortunes of the rural Dumfries and Galloway town nosedive with the loss of more than 200 jobs, shop closures and 83 buildings standing empty.
Nowadays it is a thriving community boasting more than a dozen booksellers who between them stock more than half a million books – equating to well over 500 for each of the nearly 1000 residents.
The annual Wigtown Book Festival, which started a year after the 1998 book town designation, is now a significant fixture in Scotland's cultural calendar and has welcomed audiences of more than 220,000.
Last year it generated an estimated £3 million for the regional economy. The Wigtown Festival Company is now expanding its operations to offer a year-round programme of high quality literature related events.
The Association of Wigtown Booksellers is marking Book Town's 20th birthday by inviting the local community to a tea party on the afternoon of Wednesday, 16 May.
Richard van der Voort, association chair, said: 'We really want to thank everybody in the town for all they have done to make Book Town such a success. So many people have given so much time over the years – it's just been wonderful.'
Mr van der Voort was one of those drawn to Wigtown because of its Book Town status, moving up from London in 2002 to open a sci-fi and detective fiction shop called At the Sign of the Dragon. Over the years he has seen a steady increase in footfall, despite the fact that many shops and chains of book stores have been experiencing tough times.
He said: 'I think it's because we have achieved a critical mass here, and the town is such a wonderful base for exploring the countryside – here by the Machars, on the edge of the Solway Firth and set in a horseshoe of beautiful hills.
'People also get to know you, and when they want a particular book in future they will give you a ring or drop you an email.'
Sandra McDowall, who was secretary of the community council at the time and is the current Wigtown Festival Company chair and community council convenor, was one of the driving forces behind the town's successful bid in the national competition to be designated Scotland's Book Town.
She said: 'Things were in a bad way, so many jobs had been lost, shops were closing, young people were leaving.
'When Ian Lang, the secretary of State for Scotland, visited I joined some other ladies and we dressed in black and stood in front of the County Buildings. But it did no good, no one listened or wanted to help.
'Then there was an article in the newspapers about the search for a new Book Town for Scotland and we just thought "right, let's go for it". And when the judges came we showed we had the enthusiasm, the properties and a wonderful rural setting."'
According to Mrs McDowall the effects have been transformative.
She explained: 'We realised that industry wasn't coming back and that we'd have to make our own.
'The whole of the main street is now built on books. As well as the bookshops we have cafes, restaurants, accommodation providers and even a Book Shop Band that plays songs related to literature.
'It's enriched the life of all the community, adults and children alike. Everyone has a sense that they are part of something. It's amazing how books can bring people together.'
As a lover of crime fiction ('the gorier the better'), Mrs McDowall has also loved the way the festival, which grew up due to the Book Town designation, has attracted some of the greatest contemporary authors – including her own heroes like Ian Rankin.
'I can be sitting there in an event and am almost moved to tears to think that I'm able to sit here in a town of 1,000 people and listen to talks by world-class authors.'
Anne Barclay was a Girl Guide when she attended the Book Town inauguration in 1998; she takes part this year as operational director of the Wigtown Festival Company.
She said: 'It's been amazing to be part of Wigtown's journey over the past 20 years and I feel such enormous pride in my hometown for the way the community rallied together to raise it from its knees. It afforded me the opportunity to move back to the area after graduating in 2006 and it's a real privilege to be able to contribute to its continued development.
'Much of the success can be attributed to the hard work and staying-power of our booksellers and local businesses, repeat visitors who fall in love with the area and the passionate volunteers and members of the local community who continue to make Wigtown a truly unique and wonderful place to live. I'm excited to see what the next 20 years has in store.'
The 20th Wigtown Book Festival, which has grown over the years from three to 10 days, takes place from 21 to 30 September.
Another of the town's booksellers is Andrew Wilson, who has been running Beltie Books and Café for six years, said: 'I'm from Galloway originally and very much wanted to return here. Book Town made that possible. I don't think it would have been nearly as straightforward setting up a successful bookshop in another town. The Book Town branding means we got lots of visitors coming through. And once they are here they discover what a delightful area it is and all it has to offer.'
Adrian Turpin, artistic director of the Wigtown Book Festival, added: 'The success of Scotland's Book Town over two decades as been a tale of resilience, determination and innovation which offers inspiration for communities all over Scotland and beyond.
'It's Whisky Galore meets Brigadoon with extra books. We all owe a huge debt to the Book Town pioneers who took what must have seemed like an implausible idea and ran with it, and we will be continuing the celebrations at the 20th Wigtown Book Festival this autumn.'