Edinburgh's hidden spaces provide a creative backdrop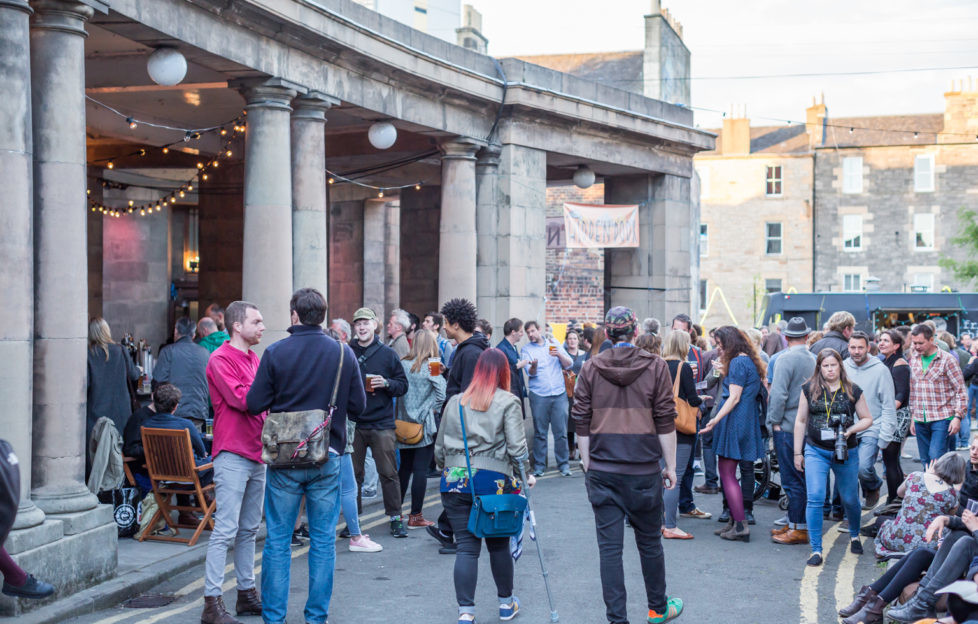 Scottish Field catches up with David Martin, creative director and founder of Hidden Door festival.
The festival  returns to Leith in Edinburgh from Friday 25 May to Sunday 3 June with a jam-packed programme of music, art, theatre, film, dance and spoken word.
What is Hidden Door festival?
Hidden Door is an arts organisation which aims to open up urban spaces as a platform for new and emerging artists, musicians, theatre makers, film makers and poets. Through organising temporary events Hidden Door works to showcase new work and create engaging environments for the public to experience, explore and discover.
How is it funded?
Hidden Door is volunteer-run and not for profit, with the festival funded through ticket sales, sponsorship and fundraising. Hidden Door also applies for grants and any money received goes straight back into the festival and its creative contributors. In terms of recent fundraising activity, earlier this year we ran an art auction, featuring many of the artists involved in the festival, online via Bidding Owl and in person via Lyon and Turnbull.
We have also been lucky to win funding from Leith Chooses – a community fund which goes to local projects voted on by the people of Leith. With Leith Chooses funding, we plan to offer a range of community workshops in different creative fields – theatre, spoken word, drama, creative writing and visual art – as well as offering accessible tours, community reminiscence sessions and a screening of archive film footage of Leith.
Tell us about your crowdfunding campaign:
Following on from last year's successful Kickstarter campaign, we have launched a crowdfunding campaign to contribute to the funding of this year's festival. Our target was originally £7,000 which we have now made and has been extended to £10,000. We've got plenty of great rewards for anyone supporting the campaign – from tickets, tote bags and free food and drink to exclusive pin badges, your name on unique origami art, VIP experiences and a selection of wonderful art prints.
How has the festival evolved since 2014?
The festival has steadily grown in size and reputation since 2014, when it cleared out the abandoned Market Street vaults to run a nine-day arts festival focused on showcasing local creative talent. In 2015 the festival moved to a hidden courtyard behind Kings' Stables Road, and returned to the same site in 2016, attracting over 12,000 visitors to experience a wealth of art, poetry, theatre, cinema, dance and music. In 2017 the festival breathed new life into the old Leith Theatre, attracting rave reviews and critical praise for its role in resurrecting 'Scotland's best new live music venue'.
How does 2018 build on last year's success?
In 2018, the festival will return to the old Leith Theatre from 25 May – 3 June; with ten days and nights of music, theatre, visual art, film, dance, spoken word, late-night DJs and special events — our biggest programme ever!
We're also operating across two venues; returning to Leith Theatre and opening up the abandoned former State Cinema building. The overhaul of the State Cinema, a forgotten beauty left to ruin, is a particularly ambitious endeavour. It opened in 1938 as part of a forward-thinking multi-use leisure development and closed to films in 1972. It went on to host a bingo hall and nightclub before closing its doors for the final time in 2004.
How do you choose your acts and artists?
Hidden Door is comprised of programmes for dance, visual art, spoken word (including comedy), theatre, music and film. The committees responsible for each of these separate components put out an open call, welcoming submissions from practitioners based all across the UK. The committees then examine the submissions they receive, reducing the initial number of of applicants substantially to arrive at the final selection.
Our open call allows for some of the best new and emerging talent to become involved and develop their practice and provides a platform for new projects and ideas. The projects are chosen on the merit of their proposals alone. We also have an invited programme, which was created as another way for Hidden Door to support artistic producers.
Who are your headline acts at this year's festival?
We appreciate and value each and every one of our participants, who have undergone an extensive selection process to present their work at this year's Hidden Door. As such, we don't have 'headline acts' as such, but there are some nights and events which we are particularly proud of and which we know might generate public interest.
For example, as part of the music programme we have secured Young Fathers for a (now sold-out) night on 2 June, as well as the DJ and producer Romare for our closing night. Through partnerships with The Skinny, The List and Sneaky Pete's we have been able to arrange live music events with the likes of Makeness, Dream Wife and Daniel Avery.
With regards to the dance programme, we are hotly anticipating our events with Janis Claxton, the Scottish Dance Theatre and Simon Fildes. Within the spoken word programme we'd recommend you keep an eye out for the curated night from Flint and Pitch, and the two nights of comedy with Gilded Balloon. For the film programme, we are hosting collaborations, curated screenings and special events with Africa in Motion, Edinburgh International Film Festival, Edinburgh Short Film Festival, Kino Klub, New Media Scotland, Scottish Documentary Institute, and Scottish Queer International Film Festival.
Why are you returning to Leith this year?
Overwhelming public support, combined with the huge untapped potential of the space, meant that it was an easy decision for the festival's organisers to return to Leith Theatre for a second year. Last year's festival left the public – not to mention the Hidden Door team and contributors – wanting more. Leith Theatre has enormous potential to be the venue the city is crying out for, and we wanted to continue the journey with the Leith Theatre Trust and everyone involved in bringing it back to life permanently.
The decision to use the former State Cinema building as an additional venue in 2018 is a continuation of the festival's tradition of discovering forgotten spaces. The venue is just around the corner from Leith Theatre on Great Junction Street. Opened in 1938, the building operated as a cinema until the 70s before it was converted into a bingo hall and, subsequently, a nightclub. Abandoned for over a decade and now owned by Edinburgh property developers Glencairn Properties, who intend to redevelop the building, the team believes it has found an ideal temporary space to expand its ambitious programme for the festival's fifth edition.
Last year you launched a crowd-funding campaign to overhaul Leith Theatre, and this year you're taking over the abandoned State Cinema. Why are you resurrecting leith's old arts venues?
Hidden Door opens up new space for the arts, both literally and figuratively. Edinburgh has some wonderful forgotten spaces, and these provide an exciting creative backdrop to the work on show at the festival. More than this though, using these spaces allows creative practitioners to respond to their surroundings and produce innovative and often site-specific new work. The public that come to Hidden Door are able to explore spaces they may have never seen before and all this adds to what makes Hidden Door such a special festival; opening up empty and derelict spaces encourages people to think differently about the places they live, work and play in. We are delighted to be playing a part in the continued regeneration of the Leith Theatre, and celebrating the former State Cinema just down the road. These contemporary buildings represent a huge part of Leith's cultural history, and we look forward to filling them with life again at the end of May.
What are your personal highlights?
It's impossible to pick favourites from the huge and diverse programme we've got lined up, but one thing that is bound to leave a lasting memory is our 'The Cabinet of Dr Caligari' live-soundtrack event. Presented in partnership with The Skinny, Hidden Door will be screening 'The Cabinet of Dr Caligari' accompanied by a live score from six acclaimed electronic composers and musicians — The Reverse Engineer, Midi Paul, Matthew Collings, Wolf, Heir of the Cursed and HQFU. With the evening culminating in a rousing live set from electronic producer Makeness, the sights and sounds of this unique event will fill every corner of the old Leith Theatre. The six musicians lined-up to play the live soundtrack for this event are some of the best, most creative and innovative electronic composers and performers working in Scotland today. With the 'old' being brought to life by the 'new', this event will be quintessential Hidden Door
What are the plans for next year's festival and for the future of Hidden Door?
Currently the focus has been on organising this year's Hidden Door, especially given that it's the largest and most ambitious of our festivals to date so we can't give many concrete details as of yet about next year. Just know that we plan on returning with another Hidden Door festival jam-packed with music, theatre, visual art, film, spoken word, and plenty of food and drink!