Nicola Benedetti to celebrate orchestra's 125th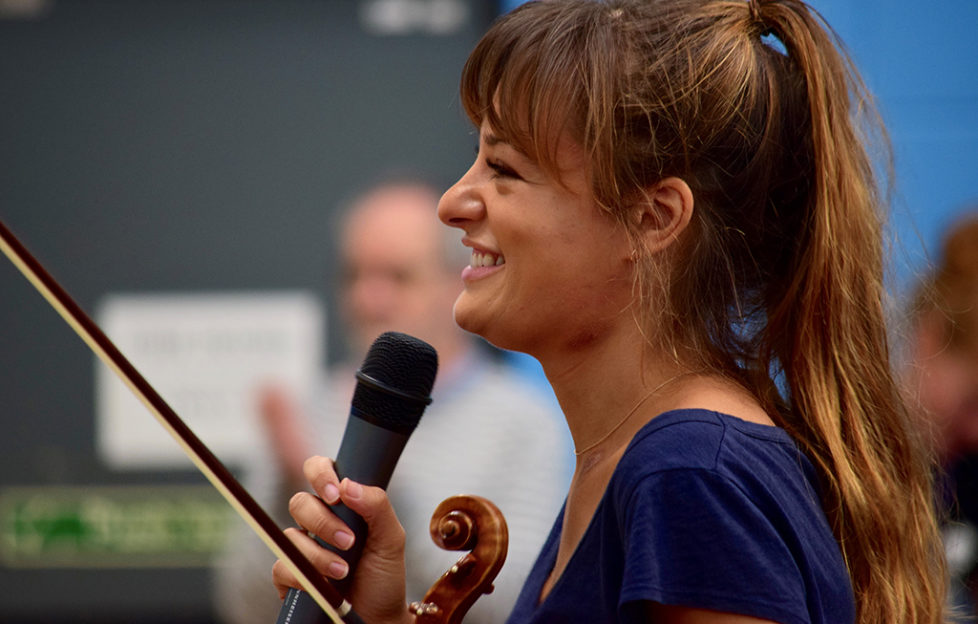 The world-renowned Scottish violinist Nicola Benedetti is preparing to perform for the first time with Dundee Symphony Orchestra.
It will be in celebration of their 125th anniversary at a special charity concert in Dundee on Wednesday evening (19 December).
The one-off concert will help raise funds for Dundee children's charity Big Noise Douglas and Tenovus medical research charity.
Nicola Benedetti, Big Sister to the Big Noise children will perform with the Dundee Symphony Orchestra to help raise money for the charity which works with children living in Douglas to develop their confidence, teamwork, pride and aspiration by learning to play musical instruments as part of an orchestra.
Big Noise Douglas was set up in Dundee last year by Optimistic Sound and Sistema Scotland to transform lives through music.
Nicola said: 'I am delighted to be a part of the birthday celebrations of the Dundee Symphony Orchestra. 125 years is a great achievement!
'It is also wonderful to give a platform to some of the children from Big Noise Douglas who work so hard and grow in confidence through their engagement with the programme.
'I am proud to be Patron of the Dundee Symphony Orchestra and Big Sister to the children of Big Noise. Perhaps one day these young musicians will also be members of the Dundee Symphony Orchestra!'
Andy Thorn, Team Leader at Big Noise Douglas said: 'The children at Big Noise Douglas have achieved a great deal in the short 15 months since we launched in autumn 2017.
'This event is a unique opportunity for some of the children to perform in one of Scotland's most prestigious venues.
'We're extremely grateful to all of our wonderful partners, particularly Optimistic Sound, for supporting our vital work with more than 450 children in Douglas and Dundee City Council. Sistema Scotland, and all its Big Noise programmes, are committed to transforming lives and bringing meaningful change to communities.'
Nicola Benedetti, who began learning to play the violin at the age of four in West Kilbride, is a patron of Dundee Symphony Orchestra.
She will play Bruch's violin concerto No. 1 for an audience of over 1500 people. The Dundee Symphony Orchestra will also perform Humperdinck's 'Hansel and Gretel' Overture, excerpts from Tchaikovsky's music for 'Sleeping Beauty' and Elgar's 'Enigma Variations'.
Donald Gordon, fundraising manager, Dundee Symphony Orchestra said: 'On the occasion of the Orchestra's 125th anniversary, we were keen to invite our patron, Nicola Benedetti to play a concerto with DSO. At the same time, we wanted to recognise her important work, both nationally and locally for Sistema Scotland and in particular for the support given to Big Noise Douglas.
'Dundee Symphony Orchestra is excited and proud to be associated with Big Noise Douglas and to be able to raise funds for this vital programme.'
Big Noise Douglas raises most of its funds through local fundraising, which is coordinated by local charity, Optimistic Sound, who campaigned to bring Big Noise Douglas to Dundee, and whose sole object is to ensure the financial security of the Dundee programme.
Tickets are still available to buy from the Dundee City Box Office, price £12 (concessions £10, accompanied children free). Tel: 01382 434940.
Donations to support Big Noise Douglas are welcome. For further information click HERE.