Leading Scottish artists display at new exhibitions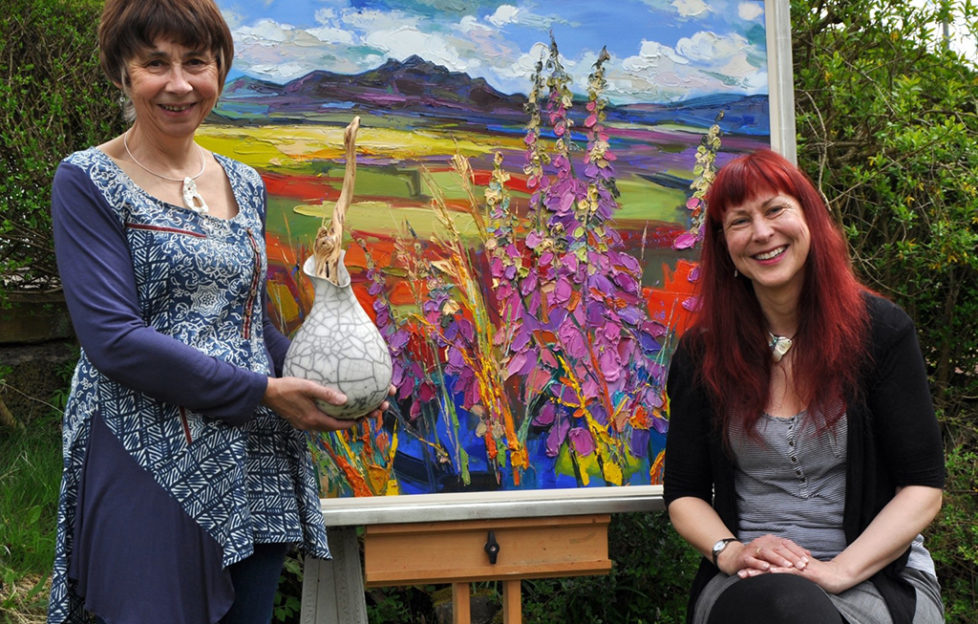 Two of Scotland's leading artists, Judith I Bridgland and Anne Morrison, will be exhibiting a show of new works this summer.
These will be displayed across two of Scotland's top contemporary art galleries, The Strathearn Gallery in Crieff and the Annan Gallery in Glasgow, this June and July.
'North Coast Gems' brings together the paintings of Judith Bridgland and the ceramics of Anne Morrison with both artists taking their inspiration from the stunning coastal Highland route now better known as the North Coast 500.
Following highly successful exhibitions in London and Harrogate earlier in the year, Glasgow-based Judith brings her trademark vibrant and colourful painting back to Scotland to celebrate some of the most scenic parts of the country.
She said: 'The North Coast 500 route forms a bejewelled necklace around the most remote and scenic parts of the north of mainland Scotland.
'It is an absolute gift to artists, providing a breath-taking variety of astonishing mountains, rugged coastlines, and isolated moorland at practically every turn of the winding, often single track road.
'To travel along it is to go on a journey not just through Scotland's scenery but also its heritage and history.
'It is a landscape of almost primeval, strangely-shaped mountains, beautiful undulating coastline, impossibly white sands and open moorland stretching into the distance with cattle and sheep at the side of the road and glimpses of deer in the distance.
'But it is also a rich human landscape, which, through its brochs, Pictish stones and empty townships, pays testament to the people of the past who lived there and left their mark, and also speaks of the people who live there now.
'It is a dramatic and vital landscape full of potential and hope, and I have tried to reflect this in the energy and vibrancy of my paintings.'
Anne Morrison, also Glasgow-based, is an award-winning ceramicist, known for her crackle-ware ceramics but will be using the exhibitions to showcase the full range of her work including figurative sculpture and new colourful ceramic forms.
Anne said: 'The show is inspired by my many walks along the shorelines of the North West coasts and islands of Scotland collecting driftwood, stones and other bits of intriguing flotsam. Some I have incorporated into the pots and sculptures, others have inspired texture, form or colour.
'Alongside this, some pieces have been made in direct response to Judith's paintings, as in Balnakiel in Sunshine and Rockpools Durness with their wonderful pinks sands and blue skies represented as undulating stone forms. Driving Rain, Black Cuillins inspired my Black Bowls with driftwood collected from shores beneath the mountains.'
Anne has also developed a new surface technique with coloured clay slips, brushed and splashed onto pots, and used in a particularly exciting way to reflect soft pebble surfaces on new hollowed stone forms which are to be exhibited in the exhibitions for the first time.
Owners of the Strathearn and Annan galleries Scott and Susan Bennett said: 'It's fantastic to have two such talented and sought after artists working together, in different mediums but complementing each other so well.
'The North Coast 500 has brought the Scottish coastline and landscape to a whole new audience and we hope the works in the exhibitions inspires people to see more.
'The galleries are going from strength to strength and the demand for high quality Scottish art remains strong and it's down entirely to the wealth of extremely talented artists working today and the scenery we have to provide the inspiration.'
North Coast Gems opens on 2 June in the Strathearn Gallery, Crieff, and runs until 27 June. It then opens in the Annan Gallery, Glasgow, with further new works, from 30 June to 22 July.