Bringing Scotland to the world's TV screens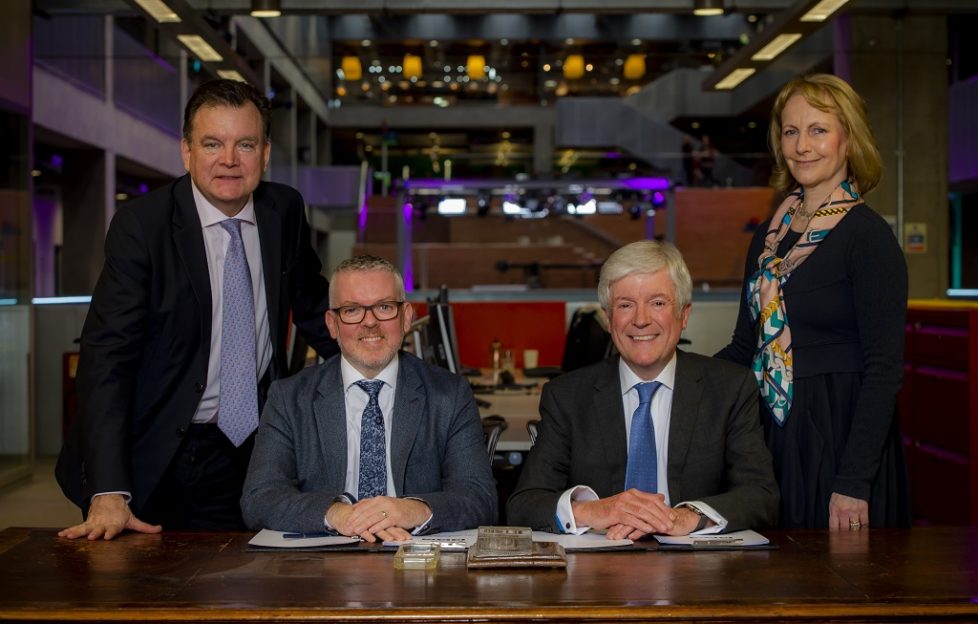 A new collaboration which aims to put Scotland's television industry on the world stage between has been announced by the BBC and Screen Scotland.
BBC director general Tony Hall said the initiative, which aims to support Scotland's television industry by supporting world-class drama, cutting-edge comedy and high-end factual content, marks the start of an exciting long-term partnership between the BBC and Creative Scotland's screen arm, Screen Scotland.
Lord Hall and Creative Scotland's acting chief executive, Iain Munro, have now signed a formal agreement which will allow the two organisations to work together to build on the recent wave of increased activity in Scotland's television industry.
He made the announcement about the new partnership in Glasgow to an audience who had gathered to watch the switching-on of the brand new BBC Scotland television channel.
Lord Hall said: 'As part of the BBC's commitment to this new partnership, we have agreed to deliver, to network, each year, a minimum of three drama series from Scotland, three comedy titles and three high-impact factual series.
'This is the first stage in a long-term collaboration involving the BBC, Screen Scotland and potentially other relevant parties with the aim of backing ambitious projects reflecting Scottish culture which can be enjoyed by audiences in Scotland, across the UK and internationally.'
Iain Munro added: 'This is an incredibly important moment for screen in Scotland. We have a strong history of partnering on projects with BBC Scotland and this agreement sets out clearly how we will build on this. It makes clear our common goals and where we can jointly support the screen sector in Scotland to thrive; producing more high quality content, developing emerging talent and celebrating our exciting culture.'
The agreement, signed by Lord Hall and Mr Munro, sets down a framework outlining how the two organisations will build on existing support and training for the industry. It also outlines how they will work together over the next three years with a view to establishing a long-term working partnership focused on building a sustainable television sector in Scotland.
The organisations will work together to achieve value from a variety of funding packages. These include; the Scottish Government's increased funding to Screen Scotland, an additional investment in the newly-launched BBC Scotland, and the BBC's ongoing commitment to invest at least 8% of network television spend in Scotland as well as from the range of content services already provided by BBC Scotland.