Doctor Who star steps back in time to Dunoon childhood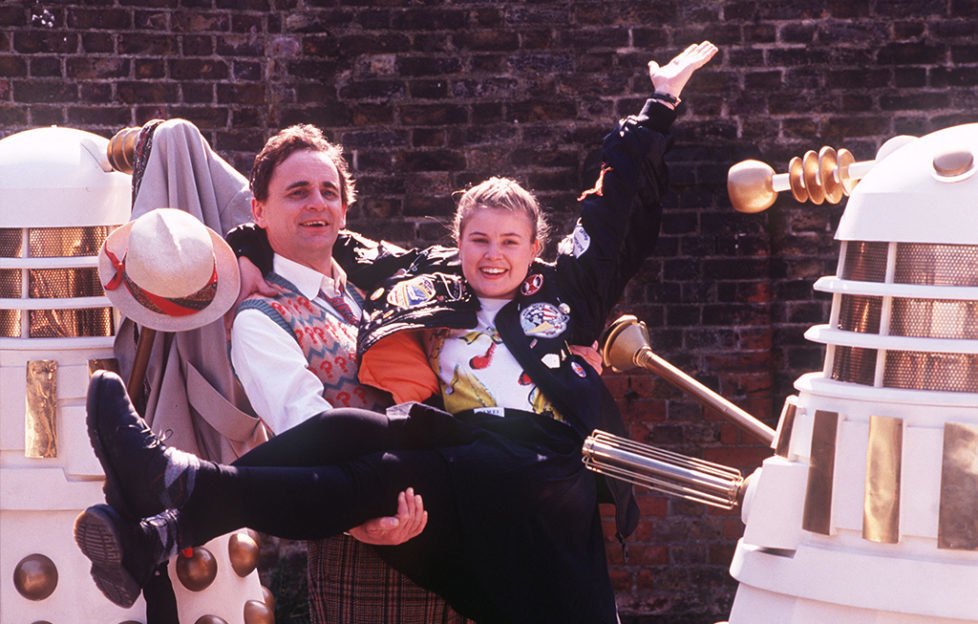 He's a Scot who's known all over the planet Earth, having saving the world more times than he cares to remember.
Sylvester McCoy played the seventh Doctor Who on television, from 1987-1989, before returning briefly in 1996, during which time he saved the day by dashing the Daleks and crushing the Cybermen.
But he's not just known for the cult BBC TV series, having featured in The Hobbit film trilogy, as well as hit BBC Scotland comedies Still Game and Rab C Nesbitt, as well as winning acclaim as The Fool in King Lear, alongside Sir Ian McKellen.
Sylvester – born Percy James Patrick Kent-Smith on 20 August 1943 – exclusively tells Scottish Field about his childhood in Dunoon.
During World War II, my father lied about his age and volunteered for the navy. He worked in submarines because they were desperate for people – being a submariner was one of the worst jobs. I was told he used to get seasick, which must have been before they submerged.
One day he went to a dance in the town where he met my mum. They only knew each other for six weeks and got married after four weeks. They had a honeymoon in Ayrshire then he went to sea and never came back again. My mum was carrying me when my father died two months before I was born. He was killed in a battle off the coast of Sierra Leone in Africa.
At first my mother didn't let herself go, then eight years later she became mentally ill and was locked up in various lunatic asylums and never really came back. That was me an orphan boy. I discovered that technically you're an orphan if you lose one parent, but I lost two.
Although my mum lived until I was 24, she died in her fifties and I used to visit her in a big Dickensian pile on the outskirts of Greenock. It was horrible in those days with tiled floors, big rattling keys, and people talking to the walls; walking down the corridors you could hear people screaming in their cells.
So I started making people laugh when I was very young. I did think about what drove me to that. If you're a child and you've got a mum and dad, they love you; it's their duty and their natural response, you don't have to demand it. Those are the rules, although not all family relationships are like that. If you're an orphan you have to earn it, it doesn't come naturally. That's where it came from for me, trying to make people laugh or smile, most likely I drove people bananas.
My granny brought me up and then my aunty sometimes. Up until my mother left, I was completely spoilt, she would do anything for me. I wasn't spoilt by the others. The aunts all liked a wee tincture and granny was not averse to alcohol. If they'd had a jar or two, one of them would say 'I'll take him', then they would wake up with a hangover and say to me: 'what are you doing here?' I found more affection in my friends' families, which was great, although I dearly love my cousins and I think of them as my brothers and sisters as I lived with them at times. We're still very close.
At one point we lived along Alexandra Parade on the seafront in Dunoon. My bedroom was at the top of the house and during the winter the waves would come up as high as my window and I would be told off for leaving the window open. We had great views of the sea out to Paddy's Milestone, the big island also known as Ailsa Craig, which is in the middle of the Clyde – you can see it from Ireland as well.
The big boats used to come in here, the paddle steamers like the Waverley, the Jeanie Deans, the Queen Mary. I had a great fear of going under the water, which I think was to do with the fact that my father had died in a submarine. Dunoon was always packed in the summer, especially during the Glasgow and Paisley fair fortnights when the town expanded to 36,000 people.
In the winter only 8,000 people lived in Dunoon but we used to have dances or ceilidhs. As a child I loved it when it was cut off and the place was ours. We could wander freely, we would leave home at 8am and not come back until bed time. Nobody worried, we would pop in and see an aunt or friends. The whole of Dunoon was home and Dunoon was the centre of my world. We would be hiking up the hills and we lived on the Clyde. I used to work for the man who hired out the rowing boats.
Paddle steamers went to Arran most days but we didn't really leave town apart from to go to Airdrie and Coatbridge for our summer holidays to stay with friends. They had a dog so I would take it and climb all over the coal slags whilst everyone else went to Dunoon. I loved it. We were happy, and I didn't drink. My grandmother took me aside when I was five and made me swear I wouldn't drink alcohol, and I kept my word until I left Scotland. I was 18 when I went to England where I learnt how to drink lager and lime.
There were two cinemas in the town, La Scala and the Picture House, both sadly gone. They used to do two nights each and my mother, being a widow, used to go. So I grew up in those two cinemas. I remember to get into the picture houses you could go with jam jars as you got money back on them. Two jam jars were worth a penny. That got you into the Saturday morning cinema to see Tarzan or a cowboy film.
When I was growing up I read Mark Twain's adventurers of Tom Sawyer and Huckleberry Finn which gave me my philosophy of life. Twain's philosophy is gloriously liberal, full of left-wing mischief, which is what I love. You don't take it all too seriously, but at the same time it is serious.
My real religion stems from Mark Twain's books. As children we used to try and recreate some of the Huckleberry Finn adventures like the famous painting of the fence scene. We used to camp outside of town by the river and build rafts, going down the water as if it were the Mississippi, but chased by midges.
Ever since I was a child I've loved dressing up, I think that was my attraction to the priesthood. The church was the only theatre in town, apart from the Cosy Corner; it had great costumes and audiences who would listen to everything you said. I went to the local catholic church, St Mun's, where I was an altar boy.
When I was 11, our headmistress organised vocational talks. We had a doctor, a captain of the paddle steamer, a fireman and the bin man, I think I put my hand up for that too. Then the priest came and Danny Sweeney, Maureen Cullen and I put our hands up to be a priest. Then something very strange happened, Danny and I were given the afternoon off to see the priest. We were delighted but mystified as to why Maureen wasn't allowed to go too, but off we set. When we got to the rectory, Danny lost his bottle and said he didn't want to be a priest, so I said 'you coward, I'll show you'. So that was my deep religious calling.
I was sent to Blairs College, a junior seminary for 11-17-year-olds, outside Aberdeen. We were lucky, we had French nuns who cooked for us so I put on weight as I was a skinny wee chappie. But it was also austere, in the middle of nowhere and the central heating would break down; there was only one place to get hot water and that was in the sinks, so we would put our bare feet in them to keep warm.
I loved it there although it was something of a paradox as we were cut off. It was Brigadoon, a little island which didn't look out, but only looked in. Being locked up in the seminary introduced me to the whole wide world of Latin, Greek, Gregorian Chant, art, classical music. But eventually I decided it was not for me, so when I was 16, I returned to Dunoon Grammar School.
A few years ago I took part in a documentary on Blairs when they were looking for a new Bishop of Argyll and the Isles, the biggest parish in the area. A priest said that if I'd stayed on I could have been it. I would have been up for it, it's a great costume. I have an image of the bishop arriving at the islands with his crozier and mitre like Washington over the Delaware.
After church on Sundays we used to go to the Cosy Corner for a Knickerbocker glory. It was a theatre made of wood and later on it burnt down and the swimming pool replaced it. One of my popular pastimes was sitting in the Cosy Corner staring at Elspeth Calder. I fancied her rotten and we were in the same class. I got six of the best of Gilbert's belt for staring at her.
Our teacher, Gilbert McAllister, was a Japanese prisoner of war and was very thin when he came out of the camps. We used to do Shakespeare plays and Gilbert would play all the main roles himself, while I was always the fool. I've played a lot of Shakespeare's clowns and they're difficult, especially when I played the fool to Ian McKellen's King Lear. Normally they cast an actor as it's a tragic part, but they often don't find the comedy, so it was my ambition to bring the comedy as well as the tragedy.
At school, I was the class clown but I was good at maths, science, art and history. I didn't finish my Highers as I left school the year before. That was when the Polaris submarines came and things went wonky. Before the US navy arrived there were more girls than boys in Dunoon. All the girls interviewed by the local paper said they were going to have nothing to do with the American sailors. Three days later, not one Dunoon boy had a girlfriend, which was another reason for leaving. Elspeth Calder broke my heart and went off with an American. But it was the best thing she ever did for me.
Because I didn't drink until after I left Dunoon, I had never been in the pubs here so recently I went on my first pub crawl in the town. There were some musicians playing in one and they got me some spoons and I joined in. When I started acting in the Ken Campbell Road Show, they all played musical instruments and I didn't. Someone showed me how to do it in a pub one night and since then I try and sneak them in. I've played the spoons in Doctor Who and I tried in The Hobbit, when I played the wizard Radagast The Brown, but I think Peter Jackson, the director, forgot.
Click HERE to find out more about Sylvester.