Award-winning short film heading for Scots cinemas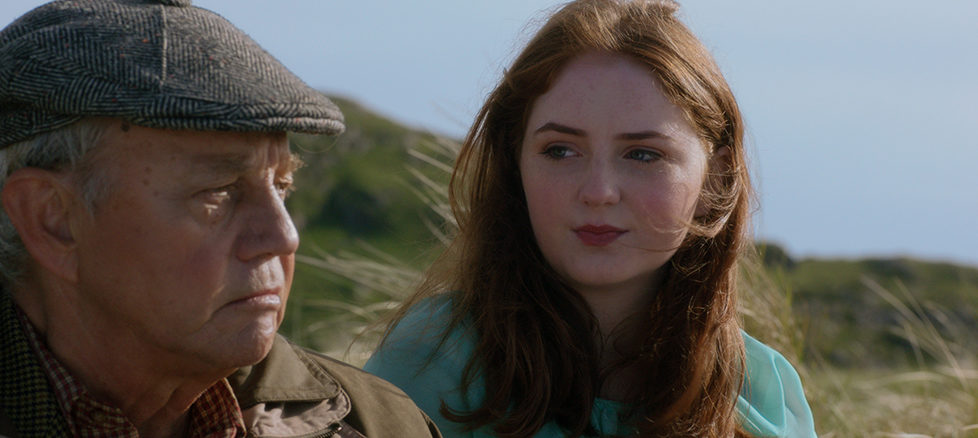 An award winning short film shot on the isle of Iona starring Doctor Who stars Frazer Hines and Caitlin Blackwood is to be rolled out across Scotland.
The 12 minute short drama, Sundown is accompanying the new British film Fisherman's Friends aboard The Screen Machine.
Sundown tells the story of William (Frazer Hines) as he travels to a remote Scottish Island to come to terms with his own mortality.
The film premiered in 2018 at XpoNorth, Scotland's leading creative industries festival before being unveiled at the Oscar qualifying HollyShorts Film Festival in Los Angeles.
The film has now been selected for more than 20 festivals world wide, winning Best of the Fest and Best Drama at the recent Copa Shorts Festival in Arizona, USA.
Sundown's young star Caitlin Blackwood – who played a young version of Karen Gillan's Doctor Who companion Amy Pond alongside Eleventh Doctor Matt Smith – picked up a Best Actor award for her performance at the Gold Movie Awards in London.
The Screen Machine, an 80 seat mobile cinema brings the latest movies to over 40 rural communities across the Highlands and Islands. It is funded by Creative Scotland, Highlands and Islands Enterprise and Caledonian MacBrayne ferries.
Writer/director Ryan Hendrick said: 'We are all thrilled that Sundown is being given the opportunity to reach a wide audience across Scotland. Sundown has travelled the world winning awards, but has only managed to secure one screening so far in Scotland.
'Short films rarely obtain theatrical release in commercial cinemas so we are incredibly grateful to the Screen Machine for making this happen. Independent films in Scotland that aren't funded through conventional means are unfairly sidelined by traditional industry routes such as mainstream festivals; The effects of this directly inhibit the development of careers of these filmmakers that depend on their work being seen.
'This is a huge step for us and the independent community.'
Veteran actor Frazer Hines, whose mum was Scots, of Emmerdale, Doctor Who and Outlander fame said: 'I'm so pleased and amazed that our little film we made on the glorious Island of Iona is making it big. I salute the cast and crew.'
The first five screening locations will be:
Tighnabruaich – 8.30pm on Sun 28 April
Liniclate, Benbecula – 8.30pm on Mon 6 May
Mallaig – 8.30pm on Thu 16 May
Lochcarron – 5.30pm on Tue 21 May
Lochinver – 5.30pm on Fri 24 May
Further dates in July in Argyll & Bute to be announced.
For more information visit Sundown's official social media pages; Facebook: @Sundownshortfilm and Twitter: @Sundown_Film