Visit to Outlander's Scotland was just fan-tastic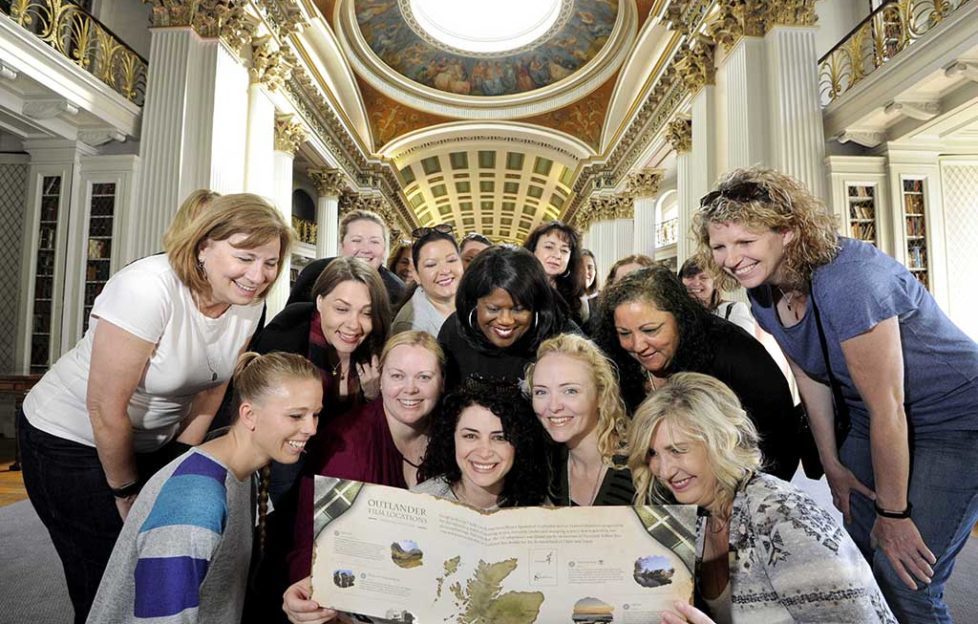 A large group of international Outlander fans descended on Scotland during a 10-day tour of filming locations used in the hit TV show.
Their visit co-incided with VisitScotland relaunching its biggest-ever set-jetting Outlander map.
The Signet Library in Edinburgh, which was visited by the travelling fans, is one of seven new locations that feature in the third series of the time-travelling romantic adventure starring Caitriona Balfe as Claire Fraser and Sam Heughan as Jamie Fraser.
New filming locations in Edinburgh, Glasgow and Ayrshire have been added to the national tourism organisation's Outlander guide to celebrate the recent release of Outlander: Season Three on Blu-ray and DVD. The third series is set in Scotland, the USA and the West Indies.
Season four of the internationally acclaimed show is currently filming in Scotland, based out of Wardpark Studios. Starz and Sony Pictures
Television who produce the show have recently announced that two more seasons have been commissioned.
The set-jetting map now features more than 36 Scottish locations used in the hit show. The map is free to download at www.visitscotland.com/outlander and a printed version will be available in select VisitScotland iCentres and featured locations.
The Outlander-inspired tour was organised by travel agents Spirit Journeys in partnership with popular US-based fan podcast, The Outlander Podcast. A total of 28 fans toured locations across Scotland used in the show and sites linked to the real history of the Jacobites.
The new locations for season three are:
· Glasgow University – doubles as Harvard University.
· Craigmillar Castle, Edinburgh – plays the role of Ardsmuir Prison.
· Kelvingrove Park, Glasgow – doubles as a Boston park.
· Signet Library, Edinburgh – was transformed into the interior of the Governor's Mansion in Jamaica.
· Bakehouse Close, Royal Mile, Edinburgh – is the setting for Jamie's print shop.
· Tweeddale Court, Royal Mile, Edinburgh – featured as the market place where Claire reunites with Fergus.
· Dunure Harbour, Ayrshire – stands in for Ayr Harbour.
Locations already on the map that feature again in the third season are Gosford House and Hopetoun House.
Jenni Steele, Film and Creative Industries Manager at VisitScotland, said: 'As well as being the land that inspired Outlander, Scotland remains an integral part of the series and we are delighted that so many new locations have been used in the third season.
'With almost 40 locations now featuring in our popular Outlander map, there is so much of the country for set-jetting fans to explore and we hope even more will do so by following in the footsteps of Claire and Jamie.'
Ginger Wiseman, who co-hosts The Outlander Podcast with Summer Reynolds, said: 'Since our show began in 2013, and with the success of Starz' Outlander, people have asked when or if we'd be doing an Outlander-themed tour of Scotland. After a couple of years, we started to take them seriously and now here we have our first PodAbroad tour.
'We're so happy for other fans to experience the magic of Scotland, the physical and spiritual home of Outlander and to see some of the history for themselves.'
Julia MacLeay, owner/director of Inverness-based travel agency Spirit Journeys said: 'We specialise in organising tailor-made itineraries for a wide range of clients around the world, including Scotland, so working with the Outlander Podcast team was a great fit for us.
'We know how much Scotland means to Outlander fans, and we feel sure the PodAbroad itinerary will deliver in terms of history, landscape and locations. We hope the fans return home with a renewed and enhanced interest in all things Scottish.'
Vincent Guérin, director of The WS Society, owners and operators of the Signet Library, said: 'Hosting the Outlander television production was very appropriate for the Signet Library, the building being home to the Writers to the Signet, a uniquely Scottish category of lawyer whose name comes from the sovereign's seal in Scotland used since at least the 14th century.
'Outlander's character Ned Gowan is a lapsed Writer to the Signet, or WS, so even though in the series Lord John Grey was hosting his guests at a governor's ball, for us it felt like Ned Gowan WS was indeed throwing the party.'
Outlander is produced by Tall Ship Productions, Story Mining and Supply Company, and Left Bank Pictures, in association with Sony Pictures Television. Outlander is available in the UK on Amazon Prime Video. Season two will be coming to More4.