Scottish Time Lord Tennant is back in the TARDIS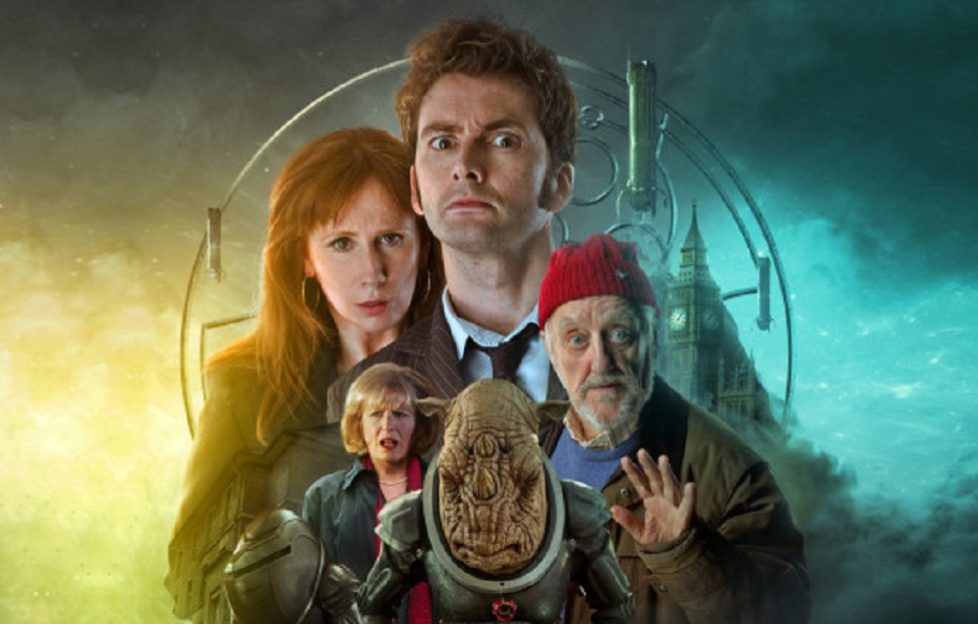 Scots star David Tennant is back as Doctor Who in three new stories this week.
Tennant, from Paisley, who played the Time Lord on television from 2005-2010, returns to the TARDIS in the trio of tales – two of which are written by fellow Scots, Jenny T Colgan and Roy Gill.
The stories are available as audio plays, produced by Big Finish Productions in London, star Tennant as the Tenth Doctor, with Catherine Tate as his friend Donna Noble. Guest stars include Bernard Cribbins as Donna's grandad Wilfred Mott, and Jacqueline King – whose parents hailed from the west of Scotland – as Donna's mum Sylvia, recreating their TV roles.
One Mile Down is written by Jenny Colgan, with the Prestwick-born romantic comedy author having previously written an audio adventure for the Doctor and Donna in 2016.
It features TV monsters the Judoon – a race of alien mercenaries for hire, who look like rhinos.
Big Finish producer David Richardson said: 'We asked each of the writers for short pitches – I think they might have each sent in three ideas – and we went for the ones you see here. I'd actually been keeping a list of ideas I wanted to see in a Doctor Who story, one of which was "The London Fog of 1952" so it was a no-brainer when Roy Gill pitches that one!'
Roy, from Edinburgh, was delighted to be involved in the series, having previously written novels and other audios for Big Finish.
Roy was delighted to be able to write for Tennant, as well as Donna.
He admits it was: 'Hugely exciting. They're one of my Doctor Who Dream Teams, really. The Doctor and Donna are best friends, they're fast and funny, they wind each other up but most importantly they make each other stronger and better. Their dialogue was a joy to write – and yes, if the opportunity ever comes up, I absolutely want to do more.'
Roy travelled from his Edinburgh home to attend the recording at the Moat Studios in London, and has plenty of happy memories from the recording.
Roy adds: 'Oh, loads! David asking 'Is that a Scottish accent?' as soon as he met me – and then me kind of over-explaining where I'm from (sorry, David…). Catherine cracking up over her lines about 'bad air' and cheese and onion crisps. How quickly all the big, exciting scenes flew past in the recording booths.'
Producer David added: 'This is brilliant! Just a character piece about a group of people lost in the fog and there's something really nasty out there… David has some terrific speeches, Catherine gets to play some lovely relationships with the guest characters, and the whole thing feels like it was on TV back in 2008.'
Director Ken Bentley adds: 'Roy Gill's episode, The Creeping Death, is a real belter. He's perfectly captured the voices of the characters.'
A limited edition run of 1000 copies of The Creeping Death, starring David Tennant and Catherine Tate, will be released on Friday 24 May, exclusively in selected ASDA stores.
Roy Gill said: "Being asked to write for David Tennant and Catherine Tate was already a huge thrill, but how awesome to hear The Creeping Death will be getting a vinyl release too! I think this nineteen-fifties tale of a band of London misfits against whatever-it-is that lurks in the smog will work beautifully on a neon green LP!"
'I'm a big vinyl fan already – I share my flat with three record decks, goodness knows how many records, and one long-suffering partner – so I'm super-eager to get my hands on a copy!"
Find out more HERE.