No papering over the cracks at book festival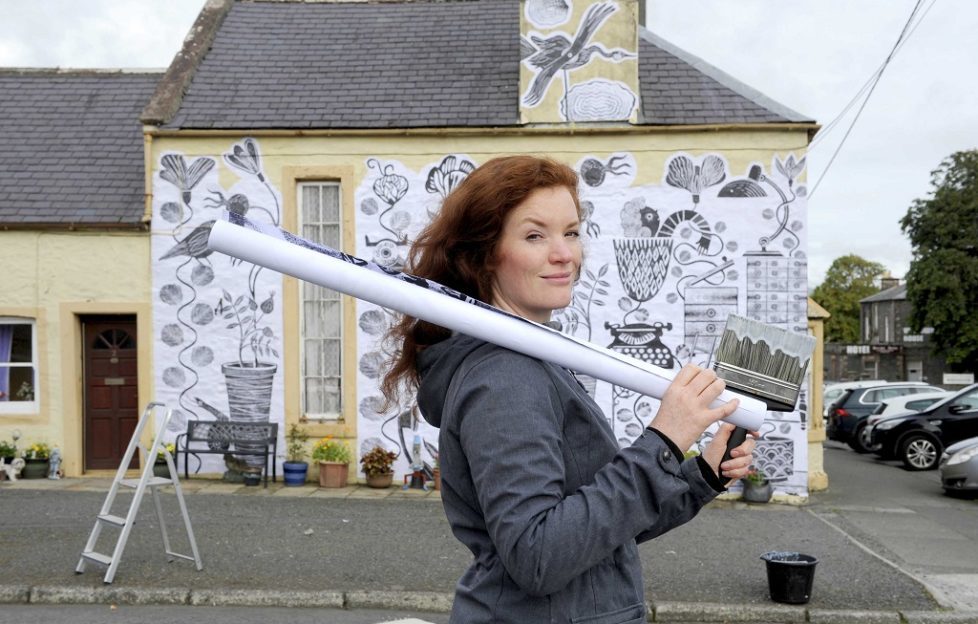 Interior decoration with wallpaper is nothing new – but to hang it on the outside of a building is definitely unique.
Artist Astrid Jaekel has wallpapered the outside of around a dozen shops and other buildings in the centre of Wigtown ahead the town's 20th annual book festival.
Each design tells a story about a building in Scotland's National Book Town.
The results will be a spectacular sight for the thousands of visitors expected during the 10-day event, which begins this Friday.
Astrid, from Edinburgh, said: 'People find the town charming and are often curious to find out more about it. So these designs have all been created to say something about what the places have been, and the things they have seen, past and present.'
In some cases she is wallpapering the entire building, in other cases one wall, and sometimes she has used 'spot art'.
Working in conjunction with author Jessica Fox and Irish street artist Joe Caslin, she has come up with delightful, amusing and striking images.
The festival office, once a tearoom, is covered with riotously celebratory images including a teapot steam coming from its spout in the shape of the figure 20.
A former fishmonger and pottery is now decorated with swimming fish and large jars, while three racing greyhounds are galloping across the wall next to a former bookies.
The tunnel next to the former Galloway Inn has an artwork that recalls the days when it used to be a place for patrons to tether their horses.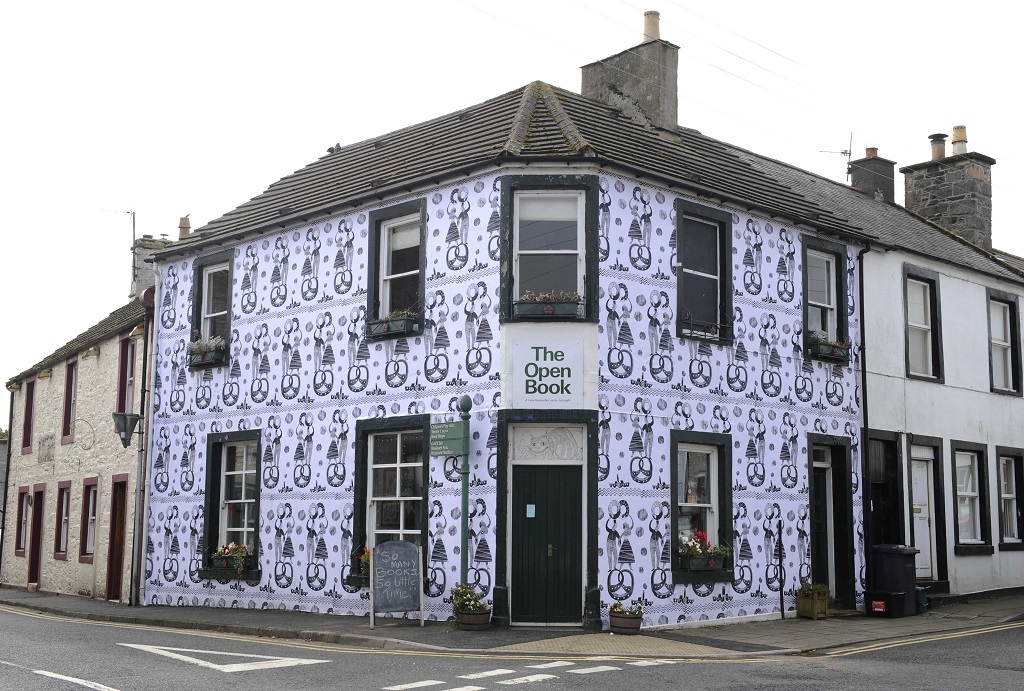 The Open Book bookshop, which visitors can hire and run for a working holiday, recalls the moment in 2017 when a guest proposed to his girlfriend.
Adrian Turpin, Wigtown Book Festival's artistic director, said: 'We wanted to do something really special to celebrate the story of the town for its 20thfestival and Astrid's artwork does this in a really fun and stylish way.
'It will make a fantastic backdrop for an event that is bringing brilliant national, international and regional literature and poetry to south west Scotland.'
The artworks will only have a limited shelf life and will be removed after around a month.
The festival itself, which runs from 21 to 30 September, features a host of events and activities for all ages and interests and the programme includes theatre, film, debates and even a talent contest and fun run.
Guests include First Minister Nicola Sturgeon, broadcaster, writer and presenter Clare Balding, bestselling author Patrick Gale, and comedian Susan Calman.
Others include comedian and radio presenter Robin Ince, historian Tom Devine, writer and comedian Arabella Weir, philosopher John Gray, mountain walker and writer Cameron McNeish and broadcaster and writer Sally Magnusson.
The festival is supported by Dumfries and Galloway Council, EventScotland part of VisitScotland's Events Directorate, Creative Scotland and The Holywood Trust.
For full details of Wigtown Book Festival click HERE.