Final three revealed in hunt for top teen novel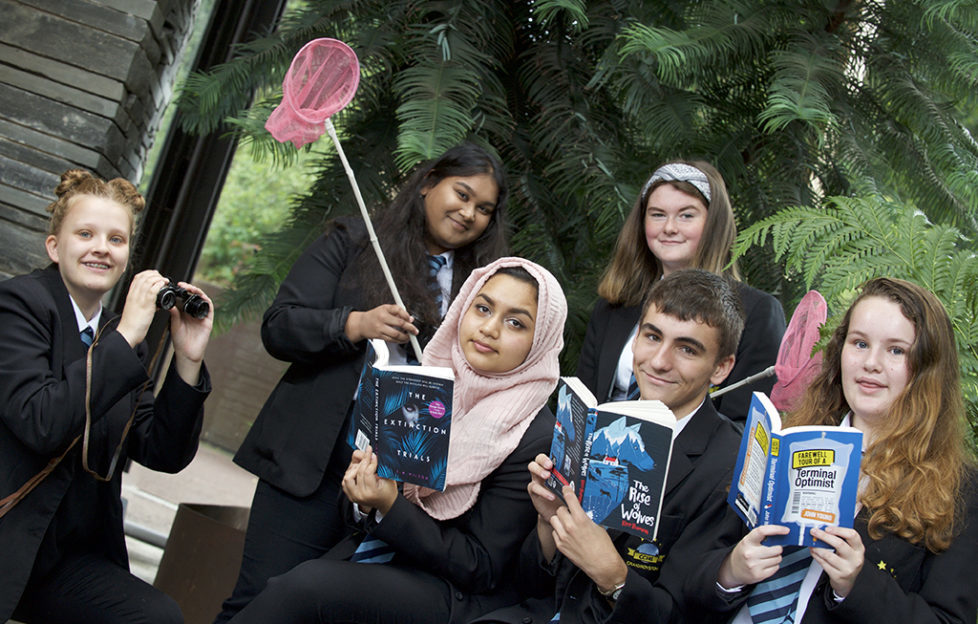 Three Scottish writers are in the running for the 2019 Scottish Teenage Book Prize after the competition's shortlist was announced earlier today.
Voting for the winner has now opened for young readers across the country.
The shortlisted authors for the prize have been revealed by Scottish Book Trust, the national charity changing lives through reading and writing. They are: S M Wilson for The Extinction Trials, John Young for Farewell Tour of a Terminal Optimist, and Kerr Thomson for The Rise of Wolves.
The Scottish Teenage Book Prize, now in its third year, was set up to celebrate the most popular teen books by authors in Scotland. It is run by Scottish Book Trust with support from Creative Scotland. Shortlisted authors receive £500 and the winner receives £3000.
Scottish Book Trust encourages teenagers of all ages to get involved, by reading the three shortlisted books and voting as part of their class or book group by 7 February 2019. The winning book will be announced on 27 February 2019, in an exclusive video available to classes who are registered to vote.
Teens are also invited to create their own book trailer or graphic novel of the shortlisted books, with the chance to win Waterstones gift cards. Scottish Book Trust provides extensive learning resources for teachers on how to create book trailers.
Marc Lambert, CEO of Scottish Book Trust, said: 'We are thrilled to be running the Scottish Teenage Book Prize for a third year. The shortlisted titles are an example of Scotland's exciting talent in the teenage fiction genre. We hope that this award will encourage young people to engage with the prize by discussing and voting for their favourite book. Congratulations to all the shortlisted authors.'
Alan Bett, literature officer at Creative Scotland said: 'We are delighted to support this Scottish Book Trust initiative that, while rewarding deserving writers, also encourages teenage readers to engage with these works and have their say.
'Reading can be a transformative experience, no matter what our age, but we hope that raising awareness of high quality literature for teenagers is one significant step towards a lifetime's love of books. Congratulations to all three shortlistees.'
S M Wilson lives on the West Coast of Scotland and works as a nurse and health visitor. Wilson's love of YA fiction started when she was a teenager. She wanted to write The Extinction Trials for her sons, to inspire them with her own love of reading.
Susan Wilson said: 'I was surprised and really delighted to be shortlisted for the Scottish Teenage Book Prize this year. This is my first YA book, so having it read and recognised by Scottish readers means the world to me.'
John Young moved with his family from Belfast to Edinburgh in 2002. He is a former lawyer and, with his wife, Laura, helped to found the Teapot Trust in 2010, a children's art therapy charity that helps chronically ill children in hospitals throughout Scotland. He was a Scottish Book Trust New Writer Awardee in 2013.
John said: 'Hearing that Farewell Tour of a Terminal Optimist was shortlisted for Scottish Teenage Book Prize makes me feel as thrilled as Potter finding a Horcrux, as excited as Ishmael sighting a whale and as chirpy as Katniss Everdeen's mockingjay. I am stoked, thank you.'
Kerr Thomson is a geography teacher in Glasgow. Kerr grew up in East Kilbride and still lives there today, although he has also spent time in Arkanas in the USA where he studied geography. Kerr has taught at several schools in Manchester and the West of Scotland. His first novel, The Sound of Whales was published in 2015 and won the 2014 Times Children's Fiction Prize.
Kerr added: 'To be shortlisted for any book award is a great honour but it is particularly special to be up for the Scottish Teenage Book Prize 2019. The story in The Rise of Wolves is set on a Scottish island and involves the adventures of three Scottish teenagers. I like to think that Innis, Kat and Lachlan would themselves read all the shortlisted books and cast their own vote for the Scottish Teenage Book Prize!'