An unexpected victory by a Scottish deerhound at the USA's most prestigious dog show has once again put the spotlight on this iconic and majestic breed.
When Foxcliffe Hickory Wind rounded the ring at New York's Madison Square Garden last year, there was a collective gasp and the audience rose to its feet: the fiveyear- old Scottish deerhound was so true to her steps, so balanced in her movement, that she seemed to be actually floating. Las Vegas bookies had given her a bleak 60/1 to take Best in Show at the 135th Westminster Kennel Club Dog Show, and now here was the judge not only anointing her the first of her rare ilk ever to win, but marvelling, 'This dog is of heaven, not of earth'.
With this encomium he was taking a page from Sir Walter Scott, who described the deerhound as 'the most perfect creature of heaven'. Sculpted deerhounds served as sentries at the gates of his estate, and in the famous statue erected to him in Edinburgh another lies in lithic perpetuity at his feet. His favourite flesh-and-blood one, Maida, and many of her successors were painted by Landseer, who caught the breed's piercing gaze, pointed muzzle, and heathery coat. But it would be left to General George Armstrong Custer, of all people, to capture its gleam of devotion and fidelity. 'She comes to me almost every evening when I am sitting in my large camp-chair,' he wrote in 1873 of his beloved Tuck, who accompanied him on his hunts on the plains. 'First she lays her head on my knee, as if to ask if I am too much engaged to notice her. A pat of encouragement and her forefeet are thrown lightly across my lap; a few moments in this posture and she lifts her hindfeet from the ground and, great overgrown dog that she is, quietly and gently disposes of herself on my lap.' (She was to die three years later alongside her master at the Battle of Little Big Horn; Tuck's as well as Custer's Last Stand.)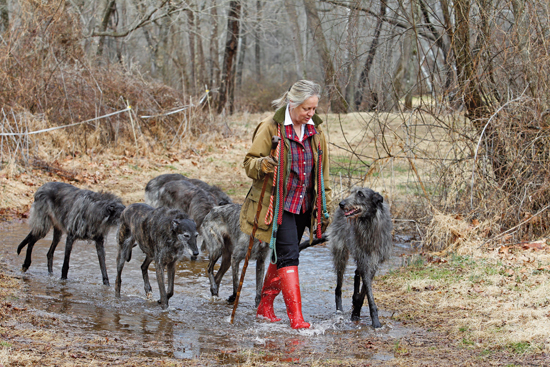 Hickory and members of her family with co-owner Cecilia Scott. Image Hyongwon Kang/Reuters
The night of Hickory's historic Westminster win, hundreds of flashes popped in front of her eyes (the eyes of a light-sensitive sight, as opposed to scent, hound). It was not only her upset victory that excited the paparazzi but her feudal beauty. She could have passed for a phantasm from the third century, when her breed was not only highly prized but hotly contested (the fate of the fair-haired deerhound of the King of the Scots had precipitated a battle between his subjects and the visiting Picts in which almost two hundred men were slain) or a shadow from the Age of Chivalry when the law forbade anyone lower in rank than an earl to own a deerhound. That little nicety – exacerbated by the invention of firearms, which made obsolete the breed's speciality of running down stags in Highland glens – left it verging on extinction by the early 1800s. Deerhound fanciers rode to the rescue: breeding from the best bloodlines, they revived the ancient strain and restored it to its lost grandeur. The dogs' most illustrious champion was no less than Queen Victoria, who bred two of the nine specimens entered in the inaugural Westminster Kennel Club Dog Show in 1877.
At Westminster she was solid and steady, she showed like she'd never shown before, but the truth is she won't always go where she's told
Hickory kept her atavistic Celtic cool in the immediate aftermath of her victory, but during the press conference that followed, she signalled that she had had enough by walking off the stage. Then the next day, at the celebrated theatre-district restaurant Sardi's, where she was served a medium-rare filet mignon on a silver platter by the restaurant's owner Max Kilmavicius (once again, there was a feeding frenzy of photographers), forty minutes went by before she deigned to eat her meat. 'She ate it on her own terms,' explains her professional handler, Angela Lloyd. 'Look, she's a prima donna, she wants things her way. At Westminster she was solid and steady, she showed like she'd never shown before, but the truth is she won't always go where she's told; if you want her to take two steps forward, she might say no and turn in the opposite direction. She is not above plotting against one.' This marked stubborn streak in the breed is characterised by deerhound lovers as 'independent thinking,' a virtue in creatures that work away from the hunter.
Sally Sweatt, the Minnesota heiress who underwrote Hickory's winning campaign, recounts: 'I had never known a Scottish deerhound, although I'd gone to camp with an Irish wolfhound, but I come from generations of dog people and I've been in dogs myself since I was a young girl, and I know quality in an animal when I see it: Hickory is a phenomenal bitch. And Angela Lloyd, who apprenticed under some of the great old-time handlers, was able to read her moods and have the right timing with her – they positively flowed together. It was like a tyre going down the road and never going flat. The bitch was on a roll, and she never stopped.' During her victory lap, Hickory stood on the balcony of the New York Stock Exchange and rang the iconic opening bell with her paw, visited the 86th-floor observation deck of the Empire State Building, which to mark her win had been lit up in the purple and gold colours of the Westminster Kennel Club, and made whirlwind appearances on all the talk shows (in one of the TV-studio hallways she had a chance encounter with the Archbishop of New York, from which she emerged officially blessed).
Retired from competition, Hickory, who was named after a bluegrass song, is now back home at Foxcliffe Farm in Flint Hill, Virginia, where she was born, living with eleven other Scottish deerhounds (representing four generations), four thoroughbred horses, and her breeders and co-owners Cecilia and Scott Dove. They all share a 90-foot-long converted barn in the foothills of the Blue Ridge Mountains. 'It's like an obstacle course here with a pack of laid-back deerhounds on the floor,' Cecilia Dove says with a laugh. 'When they do get up, they actually tiptoe around the house. But make no mistake, they're as high-powered outdoors as they are low-energy in. At least once a day Hickory gets what I call "the zooms". She and her brother, The Boatman, will chase each other all over the place, and then at some point somebody becomes the prey, the deer.' The recommended exercise regimen for an adult deerhound is at least an hour a day of trotting alternated with galloping. Hickory exults in leaping through the water flats of the river at the foot of the Doves' property; there, as nowhere else, she embodies the breed's ancient and imperishable puissance.
She's 90 pounds now, and her diet of kibble is generously supplemented with chicken necks and with venison during the hunting season. Hunting is bred in the bone of these hounds. They'll give chase – in long strides that have been described as 'floating lopes' – to just about anything that moves, and they possess, Sir Walter Scott attested, 'the swiftness to catch an antelope' as well as 'the strength to pull down a bull'. Witness the legendary tribe of Scottish deerhounds that Karen Blixen kept in Kenya during the last century. 'In the Game Reserve', she wrote, under her pen name of Isak Dinesen, 'they would spread the herds of zebra and wildebeest over the plain, as if it were all the stars of heaven running wild over the sky.' (The first of these deerhounds, Dusk, a wedding present that had sailed with her from Denmark, would come to grief under the hooves of a zebra.)
Hickory continues to make personal appearances: sharing the Chairman's Box with the actor Robert Duvall at the Virginia Gold Cup; posing for photos with the reigning Miss Virginia; appearing as a dignitary in the annual Scottish Walk in the Christmas Parade in Alexandria, Virginia. And like any dog star worth her withers, Hickory receives plenty of fan mail, to which she responds with a photograph signed with her paw print. She hasn't received any marriage proposals yet, but requests for mating have been pouring in.