Julie Edmonstone in conversation with Kenneth Cox to identify our top ten gardens
As an inspector for the Good Gardens Guide I have, in my time, skulked anonymously around most of the gardens of Scotland and thus, as you can imagine, relish the opportunity of a conversation with Kenneth Cox. I want to ask what, in his opinion, are the top ten gardens in Scotland and, in particular, why? Ken is already well known as a respected plantsman, traveller, nurseryman and world authority on rhododendrons, but it is his latest book 'Scotland for Gardeners', that prompts my question. Generously illustrated with photographs taken by Kenneth's brother Ray, it has reached almost biblical status in its field and promises to remain the all-defining tome on the subject for many years to come.
Ken grew up steeped in his family's nursery garden business at Glendoick, an Adam style house of 1747 in Perthshire, owned by the family since 1898. The Centre is now the largest retail rhododendron and azalea specialist in Europe – all home grown and exported worldwide. Between them, three generations of Coxes have introduced over 35 new species to the UK.
Sure in his considerable knowledge and articulate with his opinions, Ken has a thoughtful, analytical brain, albeit with an impish wit when comes to something he dislikes. Given the variety of terrain, climate, soil conditions, hours of sunshine and rainfall loved and endured in equal measure by us all, the challenge of identifying only ten favourites promises to be an intriguing, if controversial, conversation! Ken unhelpfully adds fuel to the fire by saying that his 'Top Ten' changes from year to year as he makes new discoveries!
First of all I need to know from Ken what he feels constitutes a 'good' garden – all those ingredients that combine to make it stand out from the others. 'The best gardens' he says 'are a combination of great plant choice combined with an instinctive sense of design. Top gardens all uniquely reflect the character and deepest interest of the gardener and their response to the space, large or small, that they work in. The finest gardeners take risks, try out new and daring ideas, although they might not all work, all of the time. I like to see new ideas and new planting combinations.
What I most dislike are 'stamp collection gardens' where the aim is simply to have more of one kind of plant than anyone else, often crammed in, with a sea of labels and little sense of design'. Well, there you have it! 'Absolutely!' I agree, nodding wisely, although deep down I feel a sneaking sympathy for all the many gardeners who love plants but don't have an artistic bone in their body. I feel we need channelling. We both agree that the way forward is to classify our choices.
Eventually we settle on six categories – Historic gardens, Trees and Woodland, Walled gardens, Contemporary gardens, Small or Urban gardens and finally Plant Collections. Ken reminds me that the fingers of history have constantly meddled with so-called historic gardens. Like all gardens, they have evolved and bowed before the winds of taste and change – particularly after two world wars had taken away the work force and many gardens turned over to the 'dig for victory' campaign. Drummond Castle in Perthshire is now in its fourth reincarnation, for example. The result being that many older gardens contain several layers of planting introduced by generations of gardeners, each reflecting the fashions and plant availability of the period.
Plant introductions
Knowing Ken's particular interest in trees I am especially keen to hear his opinion on this category. 'Scotland's magnificent trees are a major factor both in the landscape and as shelter and structure for some of our larger woodland gardens' he explains. 'Scottish plant hunters returned from north-west America in the early 19th century with their precious seeds and many of the major Scottish landowners planted avenues and arboreta. To my mind, two of the best tree collections are held within the two botanic gardens of Benmore in Argyll and Dawyck near Peebles. I'm also very impressed with Murthly Castle near Dunkeld (open to groups by appointment).
'The next great wave of plant introductions', he continues, 'came from 1850 to 1930 and saw the arrival of hundreds of plants from the Himalaya and China. Scotland's gardens were filled with rhododendrons, primulas and meconopsis which clearly feel quite at home here. That's when Inverewe, Arduaine, Crarae and many other great woodland gardens were planted.
Fine though they are, I'd choose Ardkinglas for its towering trees and uncluttered plantings of giant rhododendrons, and also Corsock in Dumfries for its combination of water garden, classical features and rhododendrons. I entirely agree with Ken's choice of both botanics and also Ardkinglas in Argyll – famous for its champion trees which contribute to its rather unique, even melancholic, atmosphere – but it is Corsock that wins my vote. Water, stone, plantings and sculpture give it enormous scenic value and it deserves its place as one of the most respected gardens in Scotland.
Walled gardens
As much as woodland gardens reign supreme in the west of Scotland, it is our walled gardens that some would call the quintessential 'Scottish Garden'. First developed in the 18th century, they were set apart from the original defensive keep (by now considerably augmented) on a south facing slope and planted in the French 'potager' style of mixed fruit, vegetables, cutting flowers and herbs, all in neat rectangular beds. Ken is delighted that recent years 'have seen dozens of great restorations such as Anton's Hill and Floors Castle in the borders, the Hercules Garden at Blair Castle in Perthshire and Cambo in Fife'. Of these, Cambo, with its choice of unusual plants set in eye-opening prairie-style borders gets my 'Best in Show' medal. Ken agrees that the grasses and the potager are two of Scotland's best examples of imaginative planting.
'The Walled Gardens I like best', Ken says, 'have a feeling of sanctuary, and that is not the same as a walled in-field!' We settle on Crathes in Aberdeenshire with its high yew hedges dating from the 16th century. A flagship garden of the NTS, Crathes is famous for its long, colour themed herbaceous borders and 'rooms' inspired by Gertrude Jekyll during the 1920s.
Ken is also very fond of Carolside, Berwickshire (pictured top), a small oval garden which brilliantly reflects Rose Foyle's love of roses and perennials. He mulls over the 'romance' of Kellie Castle in Fife, restored by the Lorimers, but also has high praise for Chrissie Reid's outstanding garden, Portmore in Dumfriesshire, with its luxuriant plantings and stylish contemporary touches. Here I really have to throw down the gardening gauntlet. We must include Dunbeath Castle in Caithness belonging to the Murray Thrieplands – a favourite of mine and brilliantly designed by Xa Tollemache, a Chelsea Gold medallist….. this, I am glad to say, he concedes! The list is too long, otherwise we would both have liked to include House of Pitmuies in Angus, so lovingly nurtured by Marguerite Ogilvy – a doyenne of the Scottish gardening world.
Contemporary gardens
Scotland can lay claim to two of the most fêted, world renowned, contemporary gardens: Portrack in Dumfries and Little Sparta in Lanarkshire. Portrack – The Garden of Cosmic Speculation – was created in the 1980s by Charles Jencks, an American architect and author, with his late wife Maggie Keswick (founder of Maggie's Centres). Ken describes it as 'So outlandish and shocking that many people find it too much'. 'It is an installation on a grand scale', he explains, 'sculpting the land into swirling lakes and mounds with fences, bridges, hedge cutting, gates and metalwork which explain and illustrate quantum physics, wave forms and the mysteries of the universe. I must say, I agree with Ken when he says 'I find this garden a little too much of the mind and too little of the heart'. It is, though, an extraordinary achievement, fully deserving of its iconic status.
Joint first place goes undoubtedly to Little Sparta, the late Ian Hamilton Findlay's garden in the windswept Pentland Hills. Ian was one of Scotland's most important post-war artists and created his garden and sculpture collection over a 35 year period. 'Like Portrack', Ken explains, 'the plants are secondary to the art here, partly due to the severe climate where only native plants establish well. Into this evolving landscape Finlay placed his artworks – now 275 in number – mostly carved from stone. They reveal themselves as you wander round, some tender and pastoral, some violent, others baffling.' Because of the disproportion between plant and structure, I am surprised to hear Ken say 'I'd almost go so far as to say that Little Sparta is my favourite garden', but he concedes, 'some people just don't get it'.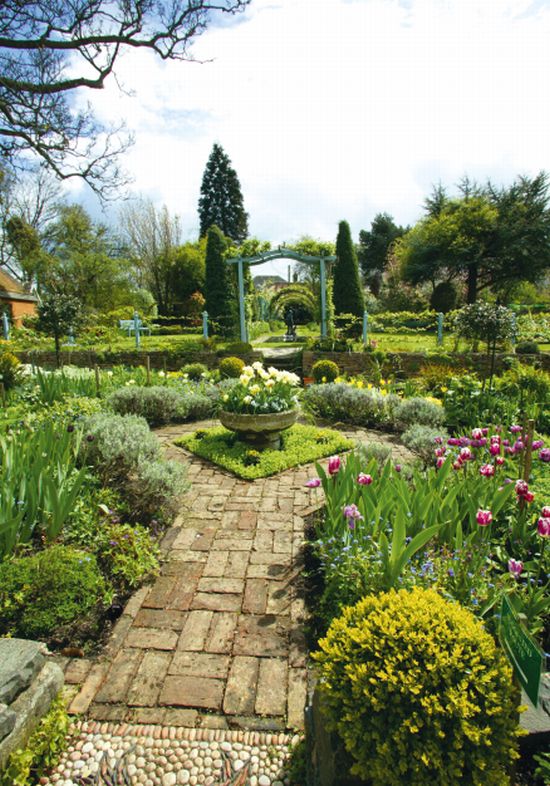 Shepherd House in Inveresk.
We must not forget that not all Scotland's gardens are on a large scale and small can be very beautiful indeed. Shepherd House in Inveresk springs to mind. Created and loved over many years by Sir Charles and Lady (Anne) Fraser, who is herself an acclaimed flower artist, its central water rill, fountains and statues complement an artfully designed canvas of lush and choice plantings. Ken agrees with me: 'This is an excellent garden and an example of a meld of clever design and excellent choice and cultivation of plants'. He is also very impressed with the design element of the Pauls' garden at 9 Braid Farm Road, Morningside, Edinburgh, which he describes as 'a series of contrasting garden rooms and a striking use of ceramics to create a tropical feel'.
Outright winner for our two authors in the contemporary categpoy – 5, Rubislaw Den north in Aberdeen.
We are, however, as one on the outright winner in this category – Dr Tom Smith's garden at 5, Rubislaw Den North in central Aberdeen. A retired Professor of Physics, Tom has designed gardens all his life and this one acre garden is outstanding. 'Somehow' Ken says 'in this small space there is room for a woodland garden, cloud-pruned trees, a restive shady grove planted with bamboos, a pool, a curved perennial border, a parterre, a 'sky telescope' circle of poplars and a border tracking the evolution of primitive plants from mare's tail to flowers'.
Having an 'open plan' garden myself, I am also bowled over by the brilliance of Tom's design, where new areas gently open up all around you without any sense of busyness or enclosure. Finally Ken says he must include the Royal Botanic Gardens – collectively, Edinburgh, Logan, Dawyck and Benmore – which together hold the largest collection of Chinese plants and the second largest collection of plants in the world. Quite rightly he says that 'The fact that these huge collections are labelled and documented and used for education and research makes them one of Scotland's greatest resources'.
Ken spent four years researching and writing 'Scotland for Gardeners'. A Herculean task, achieved in part, he admits, by 'sticking my nose into everything, everywhere – nurserymen, garden centre owners, garden owners, lecturers – I don't suppose anyone has stuck their nose in so persistently as me!' he laughs. I'm so glad he did. Returning to our original remit Ken goes firm on his Top Ten: (see left), but then threatens cheekily to change them next week! I find it painful not to include Dunbeath Castle and Portmore in addition to our agreed ten. Oh well, gardening never was an exact science.
field facts
Field facts
Kenneth's Top ten Gardens
1. Ardkinglas Woodland Garden.
2. Corsock.
3. Crathes Castle.
4. Carolside.
5. Cambo.
6. Shepherd House.
7. 5 Rubislaw Den North.
8. The Garden of Cosmic Speculation at Portrack.
9. Little Sparta.
10. Royal Botanic Gardens