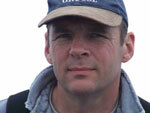 I was never very fond of Alfie. Alfie was the mongrel dog of a good friend of mine called Roger, but his existence did nothing to strengthen our bond of friendship even though I generally like dogs.
Alfie was a wanderer, often straying and often leaving his 'little packets of pleasure' where they were least welcome. This never seemed to overly upset my friend and in many ways, his relationship with Alfie highlighted the differences we had.
However, as good friends we managed to stay clear of falling out over Alfie's antisocial behaviour and when my friend retired and sadly moved away, one of his parting gifts was some of Alfie's hair. A strange gift unless you knew, as he did, that I have been a lifelong fly-tier and such long dog hairs would allow me to create some 'collie-dog' salmon fly variants with materials that would make the resulting flies have sentimental as well as practical value.
I am pleased to report that on a recent visit to my favourite salmon river, these issues were empirically proved in the shape of a lovely 8lb salmon. Thank you Roger; thank you Alfie – now my favourite dog.
Anthony Glasgow